Today's Date
Wednesday, December 6, 2023
Retrieved Wednesday, December 6 at 7:52 AM

| | |
| --- | --- |
| Temperature | |
| Feels Like | |
| Wind | From the WSW at 8 mph |
| Humidity | 35% |
| Visibility | > 6 mi |
| Pressure | 1018 hPa |
| Sunrise | 7:07 AM |
| Sunset | 4:25 PM |
Wednesday, Dec 6
Broken Clouds
Thursday, Dec 7
Clear Sky
Friday, Dec 8
Overcast Clouds
Saturday, Dec 9
Broken Clouds
Sunday, Dec 10
Light Rain
Monday, Dec 11
Scattered Clouds
Tuesday, Dec 12
Light Snow
Wednesday, Dec 13
Scattered Clouds
OpenWeather
Latest Announcements
Superintendent Transparency Act

Notice is hereby given that Banner County Public Schools has a proposed superintendent employment contract for approval on its agenda for the board meeting to be held on December 11, 2023 at 7:00 pm in the cafeteria at Banner County School in Harrisburg, Nebraska. 

More info

December Regular Meeting of the BCS School Board

Notice is hereby given that the Regular Meeting of the Board of Education will be held at 7:00 PM on Monday the 11th of December 2023, in the school cafeteria, which meeting will be open to the public.  An agenda for such meeting, which is kept continuously curre

More info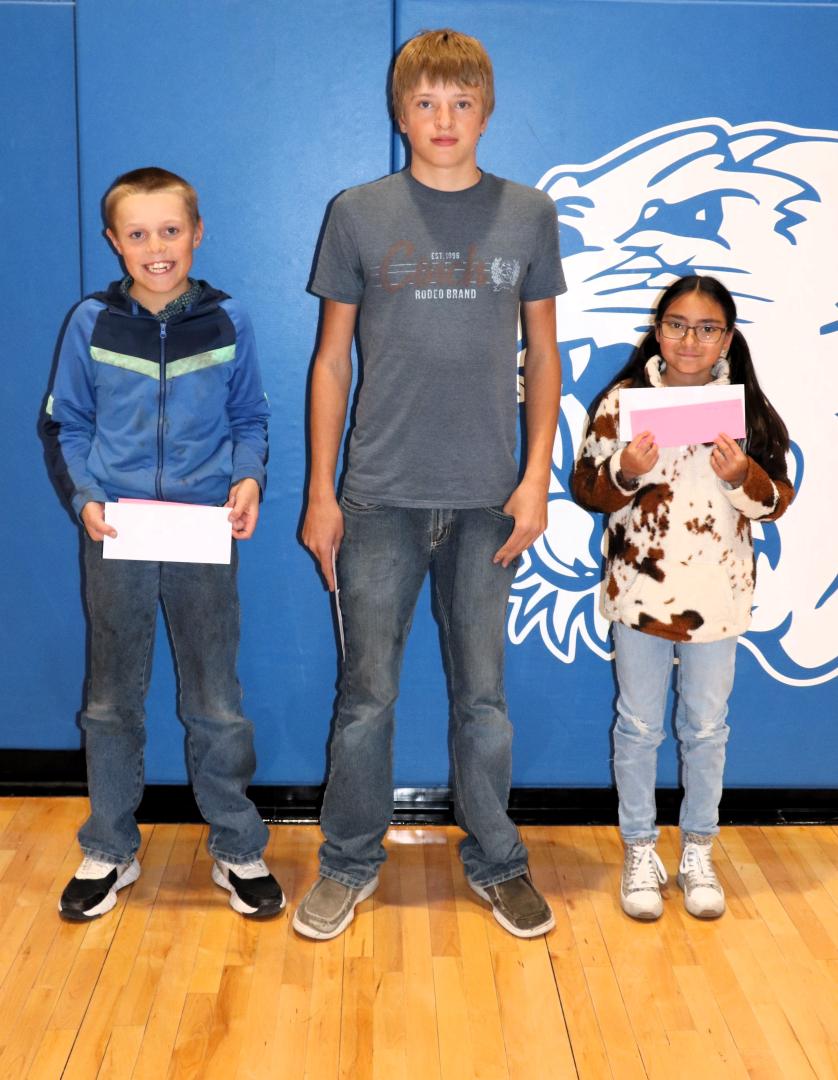 Student of the Month - October 2023
Presley Grubbs – 2
Some of the activities that Presley enjoys at school are OEF, PE, and reading. Her favorite subject is, in fact, reading. Spending time with her dad, her siblings, and her mom make her the happiest. Presley would also like the board to know that she has worked very hard this year on her AR goals
 Roger Lee McGowan IV – 5
Roger states that Social Studies is his favorite subject at school because he loves learning about the Native American tribes. He describes himself as kind, funny, and active.
As a 5th grader, Roger does not have access to many of the extra-curricular opportunities at BCS – but I see a very active future for him!
Micah Dittbenner -10
Micah participates in football, FFA, Cats Committed, and High Energy Cappuccino. His favorite subjects are Geometry and Ag Science. Three words that describe Micah are determined, respectful, and caring.
Wednesday, December 6
Basketball: G/MS
Basketball: B/MS
Thursday, December 7
6th Grade Entrepreneurship Expo
Music
Friday, December 8
OEF
Wrestling: V
Basketball: G/V
Basketball: B/V
Saturday, December 9
Wrestling: V
Basketball: G/V
Basketball: B/V
Thursday, December 14
Basketball: G/MS
Basketball: B/MS
Friday, December 15
OEF
Wrestling: V
Basketball: B/JV
Basketball: G/V
Basketball: B/V
Saturday, December 16
Breakfast with Santa
Basketball: B/V
Monday, December 18
Tuesday, December 19
Wednesday, December 20
Thursday, December 21
No School
Basketball: G/V
Basketball: B/V
Friday, December 22
Saturday, December 23
No School
Sports Practice Moratorium Dates
Sunday, December 24
No School
Sports Practice Moratorium Dates
Monday, December 25
No School
Sports Practice Moratorium Dates
Tuesday, December 26
No School
Sports Practice Moratorium Dates
Wednesday, December 27
No School
Sports Practice Moratorium Dates
Thursday, December 28
Friday, December 29
No School
Basketball: B/JV
Basketball: G/V
Basketball: B/V
Saturday, December 30
Sunday, December 31
Monday, January 1
Tuesday, January 2
No School
Basketball: B/MS
Basketball: B/V
Wednesday, January 3
No School
Teacher Inservice/Workday
Thursday, January 4
Friday, January 5
Friday Regular School Day
Basketball: G/V
Basketball: B/V
Saturday, January 6
Wednesday, January 10
Friday, January 12
OEF
Basketball: G/V
Basketball: B/V
Saturday, January 13
Speech
Wrestling: V
Basketball: G/V
Basketball: B/V
Monday, January 15
Tuesday, January 16
Wednesday, January 17
WNCC Rep
Basketball: G/MS
Basketball: B/MS
Thursday, January 18
Basketball: G/V
Basketball: B/V
Friday, January 19
Saturday, January 20
Basketball: G/V
Basketball: B/V
Speech
Wrestling: V
Monday, January 22
Tuesday, January 23
Basketball: B/V
Basketball: G/V
Wednesday, January 24
FFA
Basketball: G/MS
Basketball: B/MS
Friday, January 26
No School
Wrestling: V
Basketball: G/V
Basketball: B/V
Saturday, January 27
Speech
Basketball: G/V
Basketball: B/V
Monday, January 29
Tuesday, January 30
Wednesday, January 31
Basketball: G/MS
Basketball: B/MS
Thursday, February 1
Wrestling: V
Spelling Bee
Friday, February 2
OEF
Basketball: G/V
Basketball: B/V
Saturday, February 3
Speech
Wrestling: V
Basketball: B/V
Sunday, February 4
Monday, February 5
Instrumental Music
Basketball: G/MS
Basketball: B/MS
Tuesday, February 6
Instrumental Music
Basketball: G/V
Wednesday, February 7
Thursday, February 8
Basketball: G/MS
Basketball: B/MS
Friday, February 9
OEF
Wrestling: V
Basketball: G/V
Basketball: B/V
Saturday, February 10
Basketball: G/MS
Basketball: B/MS
Speech
Wrestling: V
Monday, February 12
Thursday, February 15
Early Dismissals
Parent Teacher Conferences
Wrestling: V
Friday, February 16
No School
Speech
Wrestling: V
Saturday, February 17
Monday, February 19
Basketball: B/V
No School
Tuesday, February 20
Wednesday, February 21
Friday, February 23
Friday Regular School Day
Saturday, February 24