Today's Date
Wednesday, September 20, 2023
Retrieved Wednesday, September 20 at 8:20 AM

| | |
| --- | --- |
| Temperature | |
| Feels Like | |
| Wind | From the W at 7 mph |
| Humidity | 60% |
| Visibility | > 6 mi |
| Pressure | 1010 hPa |
| Sunrise | 6:40 AM |
| Sunset | 6:56 PM |
Wednesday, Sep 20
Light Rain
Thursday, Sep 21
Light Rain
Friday, Sep 22
Light Rain
Saturday, Sep 23
Clear Sky
Tuesday, Sep 26
Few Clouds
Wednesday, Sep 27
Scattered Clouds
OpenWeather
Latest Announcements
There are no announcements to show at this time.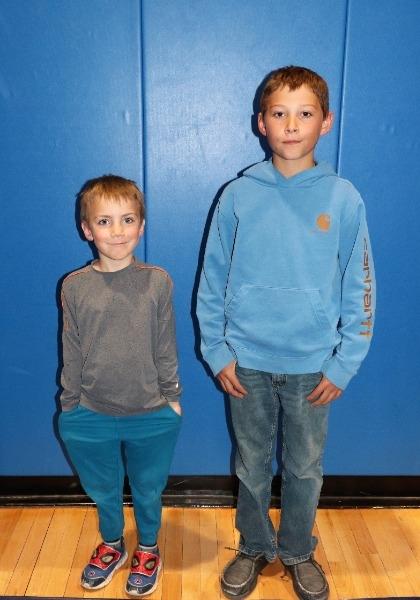 Student of the Month - April 2023
Amiah Cooper – K
Amiah enjoys recess, free play, and science. His favorite subject is Art, because he likes drawing and what he makes in art class. The things that make Amiah happiest are playing with his friends, lunchtime, and playing on the skateboard ramp at the Wal-Mart park. He would also like the Board to know that he likes animals.
Tate Olsen – 6
Tate participates in football and wrestling. His favorite subject is social studies. The three words that Tate selected to describe himself are kind, energetic, and helpful.
Wednesday, September 20
WNCC Rep
Volleyball: G/MS
Friday, September 22
Homecoming
OEF
Volleyball: G/V
Football: V
Saturday, September 23
Monday, September 25
Tuesday, September 26
County Government Day
FFA
Field Trip
Wednesday, September 27
Cats Committed
FFA
Volleyball: G/MS
Football: MS
Thursday, September 28
Cross Country: MS
Early Dismissals
Parent Teacher Conferences
Friday, September 29
No School
Volleyball: G/V
Football: V
Saturday, September 30
Tuesday, October 3
Wednesday, October 4
FFA
Volleyball: G/MS
Football: MS
Flu Shot Clinic
Thursday, October 5
Cross Country: MS
Field Trip
Friday, October 6
Saturday, October 7
Tuesday, October 10
Wednesday, October 11
FFA
Volleyball: G/MS
Football: MS
Thursday, October 12
Field Trip
Banner County Foundation Meeting
Friday, October 13
No School
Football: V
Volleyball: G/V
Saturday, October 14
Wednesday, October 18
Thursday, October 19
Pink Out Night
Volleyball: G/V
Football: V
Friday, October 20
Monday, October 23
Tuesday, October 24
Wednesday, October 25
Thursday, October 26
Friday, October 27
Tuesday, October 31
Wednesday, November 1
Thursday, November 2
Friday, November 3
Saturday, November 4
Monday, November 6
Wednesday, November 8
Thursday, November 9
Friday, November 10
OEF
One-Act Play Production
Wednesday, November 15
Thursday, November 16
Friday, November 17
Tuesday, November 21
Wednesday, November 22
Thursday, November 23
Friday, November 24
Monday, November 27
Thursday, November 30